Kung Fu Hustle, is one of those movies that reminds me that you can basically make any type of movie you want, as long as you have these things:
Clever and Careful editing
Actors and a Crew that actually give a CARE
A solid script
(Last but not least) A truly Inventive Mindset
Written, Starring and Directed by Stephen Chow , Kung Fu Hustle is an martial arts action comedy that works on Cartoon logic, complete with zany sound effects right out of a Looney Tunes short. Characters get stabbed, punched, bitten by snakes, stabbed again, YEETED (that means thrown for you older folk) into buildings and billboards and of course shot with all manner of guns. The film is actually quite violent when you stop and look at it, buts its handled with such skill, charm, and insanity that the violence never truly becomes gruesome or hard to look at.
The plot basically is: In 1940s China, street gangs have been running amok and rule the town surrounding towns with an iron fist. The most infamous being the Axe Gang. Sing (played by Stephen Chow) and his fat sidekick Bone are scammers that desperately want to join the Axe Gang, to raise themselves from rags to riches. The two goons visit Pig Sty Alley, a poor housing community owned by the hilariously dysfunctional married couple, simply known as the Landlord and the Landlady. A few lies and misunderstandings after another, lead to the REAL Axe Gang coming in and attempting to shakedown the tenants. To the shock of the gangsters, some of the people living within Pig Sty turn out to be powerful martial artists who proceed to fight back the Axe Gang into a retreating. This chain of events sparks mini-war between the residents of Pig Sty and the embarrassed Axe Gang who vow bloody revenge, with Sing who see this as his chance to finally achieve his destiny.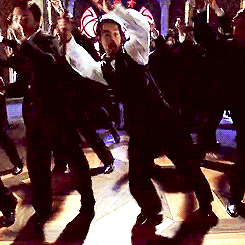 This is not just some wacky, ultra-violent, movie that only works when your STONED with your buddies (although that's not such a bad idea). The film is elevated by its beautiful choreography and deadpan comedic writing , featuring several prolific Hong Kong action cinema actors from the 1970s. The show stealers being the landlord and Landlady, played hilariously by Yuen Wah and Yuen Qiu. Yuen Wah, before playing this role, starred in dozens of martial arts movies and was even Bruce Lee's Stunt double at one point.
If I had any problem with the movie, it would be that some of special effects didn't really age well. While the movie was probably mind-blowing back in 2004, some of the CGI would be considered laughable to today's standards. And yet, this almost adds to the whole vibe of the movie being a slapstick cartoon. One scene in particular involves The Landlady chasing Sing while they both run like its a Road Runner Cartoon. It looks so unrealistic but always manages to put a smile on my face.
Kung Fu Hustle* is the perfect "we cant decide on a movie to watch" movie. Its funny, violent but somehow light-hearted, shot well and best of all: SHORT. The movie does all needs to in about 98 minutes. Any longer and the movie would probably end up feeling like a joke doesn't know where to end. And if there's one thing I like, its a movie that doesn't waste a second of your time.
I give Kung Fu Hustle a solid 8.5 out 10
*Its on Netflix BTW, just in case you were wondering